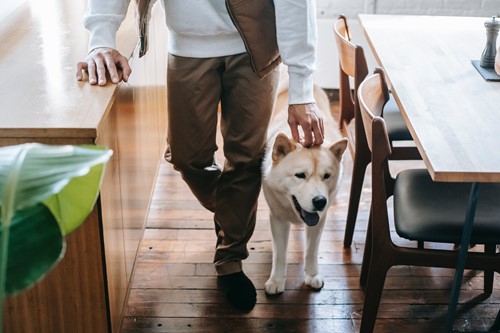 When you have pets and are building a new home, you might want to take that into consideration when you choose the type of flooring for your home. All pets leave pet hair, scratches, dander and have accidents in the house. Some flooring types are hard to clean, and others scratch easily. Knowing you love your pets like family, keeping in mind that they will be with you a long time, it's best to choose flooring that is low maintenance.
Vinyl Flooring
If you want flooring that is durable and cost-effective, vinyl flooring might be a good fit. Its durability makes it good for pets. Vinyl, depending on what you get, is water-resistant or waterproof, scratch-resistant, stain-resistant, and sometimes mark resistant, depending on the brand. You can find vinyl in many designs - even vinyl that looks like hardwood floors, plank flooring, and stone tile flooring.
Tile Flooring
When you need something that is durable with a timeless look, choose ceramic, porcelain or stone tile. This type of flooring lasts for a long time, and it's easy to clean and maintain. It even feels cool under your pet's paws. However, unlike vinyl that is slip-resistant, tile is not. Wet paws can make it difficult for pets to get around. Additionally, the harder surface is often harder on older pets who may have joint issues later in life.
Laminate Flooring
Another type of flooring that stands up to scratches and other pet related damage is laminate. It's relatively low maintenance and is cost-effective. Laminate flooring also resists stains, and many brands are scratch-resistant. However, as with tile, the surface can be slippery, which could be a problem for some pets. Additionally, laminate is only water-resistant. If you don't clean up spills and accidents, it will seep into the subfloor and will damage the laminate flooring.
Hardwood Flooring
This flooring is great when you want to add elegance to your home or increase your home's value. However, it might not be the best flooring for dogs. While it lasts for many years, it is not waterproof unless you add this option as a coating. It does not handle spills well at all, unless you wipe them up immediately. The coating on hardwood wears quickly and is susceptible to scratches. And, if you choose darker hardwood floors, you can see all kinds of dander and pet hair on them.
Carpeting
Carpet feels great under your feet, but it is a high-maintenance flooring, even without pets. It traps dander, pet and human hair, ticks and fleas, and needs regular cleaning. Even if you vacuum it every other day, you'll have to shampoo the carpets at least every three to four months if you have pets. Accidents from pets and humans stain. Carpet also fades and wears out unless you get fade-resistant and wear-resistant carpet.
Bamboo Flooring
This flooring is unique and eco-friendly. Since bamboo is a hard material, it resists major damage. It is resistant to dents, scratches, stains and water, which makes it a low-maintenance floor choice. However, it can be very expensive, especially if you get the more durable brands.
Engineered Hardwood Flooring
If you love hardwood floors but don't like the upkeep, you can get engineered hardwood flooring. It is stylish and holds up better in high traffic areas. It does have some scratch and wear protection, but you have to buy carefully as not all brands are equal. It can also be expensive. If you have pets, make sure you find a brand of engineered hardwood that is water-resistant and scratch-resistant as it does scratch and suffers water damage easily, especially when you don't clean spills and messes immediately.
Cork Flooring
Cork resists mold and mildew and is eco-friendly. However, it can scratch easily - you'll notice scratches more on lighter shades. Cork does discolor over time where it is exposed to sunlight. The biggest reason it's not great for pets is that it is not water-resistant - you'll need to clean up spills and messes as soon as they happen.
In conclusion, the best flooring for pets is vinyl - it needs the least amount of maintenance and is one of the easiest floors to keep clean.